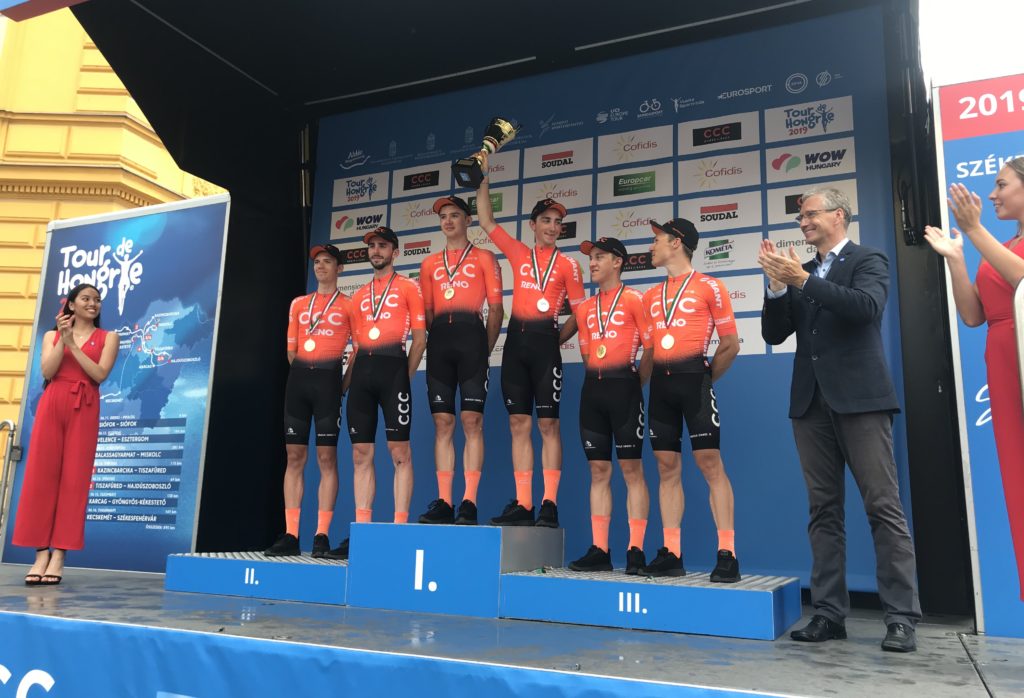 CCC Development Team won team classification at Tour de Hongrie (2.1). Moreover, Attila Valter finished 3rd in GC and was 2nd best Hungarian rider in this race. Stasiek Aniołkowski finished 2nd at stage IIIa and Attila Valter was 3rd at queen's stage. Here you can find some thoughts from Attila Valter  about the race
"This week was one of the most memorable of my life. I think that the race started in a really good way. I had a quite good prologue and I was satisfied. It was a solid performance. Moreover, Piotrek Brożyna really did his best and finished third. First stage took place on my birthday, which made that day even more special to me. It was one of the best day of my life. I was super happy, I felt motivated. I think that 6th place in that finish sprint was good result. The second stage of the race maybe was not so perfect when it comes to the result, but the atmosphere was simply incredible. There were so many people there supporting us, my name was written several time on the roads. On the one hand it was really crazy see all those fans, but on the other – their support was really important and gave additional power to fight. We had really long stages with demanding routes, moreover the weather was a factor that made racing much more difficult. On Friday we had two flat stages, where Stasiek Aniołkowski was chasing for a win. He was really close, overall he finished second. Unfortunately, after the crash one of our team-mates Sergio Tu had to abandon the race. On Saturday we had a queen's stage. We were about to climb the highest mountain in Hungary. I know this route well. 
I knew that if I'd like to finish on a good place, I need to be fresh on the first mountain climb, which was around 4 km to finish line. I didn't feel tired, but going "full-gas" at such distance wouldn't be smart. Then, Androni's rider attacked and he actually went like that. When the steep part started, I decided to go after Krists Neilands, who was the leader of the race. By that time almost everyone dropped and there were 4 riders in our group. At 3 km to go, Lopez decided to go for a long attack. I was the only one who was not ok with his attack, so I went after him. Pedro was caught within 1 km to go, and soon after that, Neilands went full-gas and I realized that he would hold this crazy tempo till the end. It was really hard for me to follow him and when Dina from Hungarian National Team saw it – he attacked. When we had around 200 m to the finish line I decided to go, but unfortunately I was too late. If I had started earlier, I would beat them. Nevertheless, I am satisfied with my result. What was really important – we have showed a perfect team performance and we were still at the lead when it comes to team classification.
And again – I had to admit that the atmosphere was incredible. So many people were standing along this climb, screaming and cheering us on. I think that there has never been something like this in Hungary. After this stage I jumped into 3rd place in GC. So the plan for the last day was to secure our position in team classification and my place in GC. We managed to did this. On the last flat stage, we had Michał Paluta in a breakaway and he managed to jumped to 13th place in GC, just before Piotrek Brożyna. For me, it was unforgettable moment to stand on the podium three times and see all those people around with smiling faces. What made that moment more special was the fact that we won team classification. I am happy for the whole team. For the young guys, how they managed to do this hard race, also for Sergio, who was forced to quit. And for the more experienced guys that they finished in top15. Thanks to their work, I was able to become 3rd in GC and 2nd best Hungarian.
 I really do hope that this year's edition of Tour de Hongrie will be a turning point for cycling in Hungary. I am extremely grateful and proud that with my team, I can be a part of it. I also want to thank Hungarian CCC Shoes and Bags for their visits and support during whole race. "