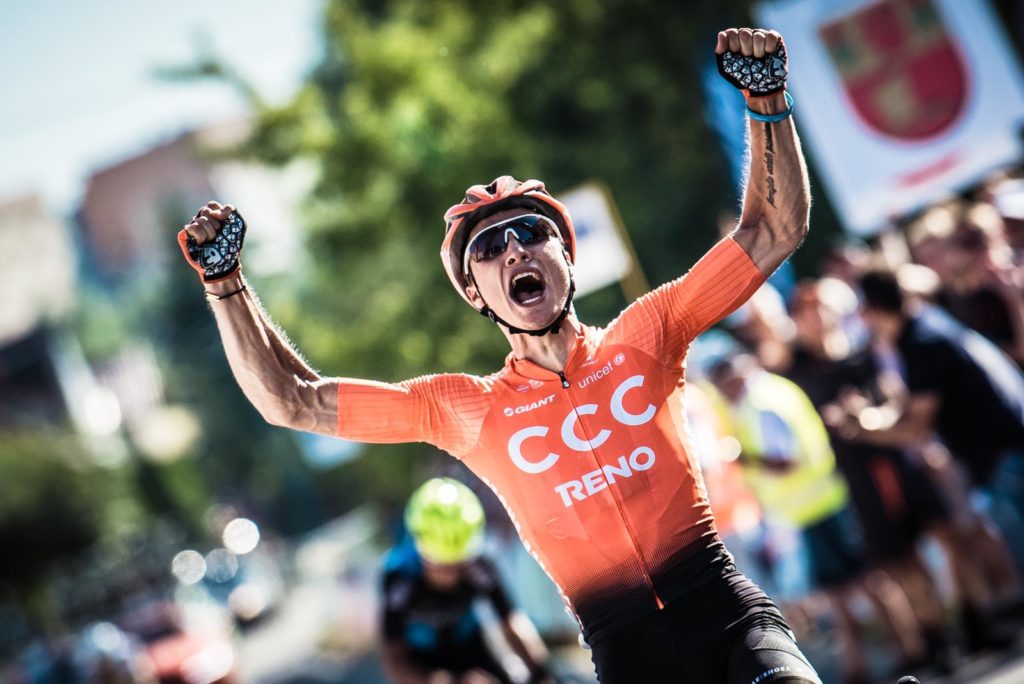 Michał Paluta became Polish national champion in the road race (elite), while Stasiek Aniołkowski took second place in the U-23 category. The team's "podium" was completed by Hungarian Attila Valter, who finished 3rd in road race at Hungarian nationals
The riders, just like last year, raced on laps. This year they had nine rounds to go, just over 20 km each. The Orange squad tried to be active from the very beginning. In the first breakaway there was Piotrek Brożyna, who was doing his best and pushing the tempo for the escapees to succeed. After several laps, peloton managed to catch them. During 7th lap, a three-men breakaway formed. It was Michał Paluta and two other riders who had enough power to attack. Michał went with Mateusz Taciak and Paweł Cieślik and they were really determinated to ride until the finish line. Despite repeated attempts of attacks from the peloton, no one was able to catch the escapees. In the end, it was Michał Paluta who took the title of Polish national champion. 
– I'm extremely happy, but it's still hard to believe that I've became Polish national champion. I've been working for this so hard and waiting so long for such a victory. The last time I won was during junior's nationals three years ago.  From that time, I've made a huge progress. Maybe you can't see that in results, but I've been always willing to help and fighting for other guys in the team. Of course, in the back of my head there was some king of thought that it would be good to win, to achieve some big result. And I managed to do it today – said Michał Paluta. 
– For us and for other Polish teams Nationals are a very important. And each rider has to do his best to be properly prepared for such a long, hard and nervous race. It was also my goal – to be in a good shape, to either help the team or be able to fight when a chance occurs. Fortunately, I was also lucky to be in the breakaway which wasn't caught and managed to reach the finish line – added Michał. 
– I had a plan for the last kilometers and I have to admit I fully completed it. I wanted to attack around 3 km to go and see what would happen. Then Mateusz Taciak stayed, we went together with Paweł Cieślik. I am glad that none of them attacked before me, so I had enough power in my legs. I also knew that I was the fastest rider among us, but still – it was definitely easier to race in the end against one, than two riders. I'm happy with how won this race, it could not be better. I would like to thank to the whole team and our sponsors. Thanks to them, I've been able to improve as a rider over the last years – said Michał.