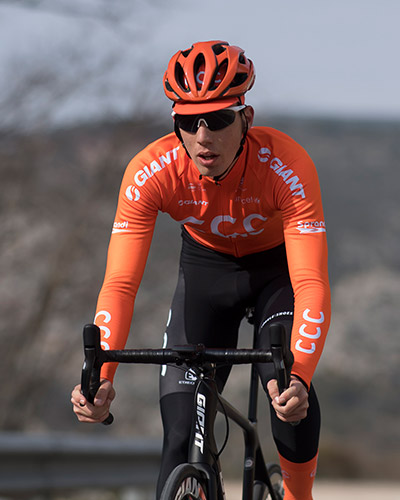 – I'm ready to fight and I think that this race may affect my future – says Attila Valter a day before he starts his first Tour de l'Avenir. He is the only rider from CCC Development Team who will take part in this year's edition of the most important race for U-23 riders. 
It will be 26th edition of race under the current name. 153 riders from 26 teams are on the start list. There are 23 national teams, 2 regional selections and one international mixed team. The riders will be fighting during 10 demanding stages, the majority of which will take place in hilly and mountain terrain. The cyclists will be given one rest-day after six day of racing. Attila Valter will be supported by 5 other, Hungarian riders. 
– I have to say it's a pretty crazy feeling to start a race where only "big names" have won before. Two years ago Egan Bernal took the overall victory there and this year we saw him wearing yellow jersey on Champs-Elysees. It's the biggest and the most important race for U-23 riders in the world and I'm really looking forward to it – says Attila Valter. He also points out that his whole, Hungarian national team is motivated and ready to fight. – We have talented and hard-working riders who will do their best to mark our nation in the world-wide cycling map. Personally, I also think that this race may affect my future a lot – claims Attila Valter. 
Attila has started his second part of the season lately taking part in two one-day races in Hungary – Gemenc GP I & II (he won one of them) and Tour Alsace. – After Tour Alsace I kept training, but my sessions were a big shorter but more intense. The main aim was to have the best possible shape at Tour de l'Avenir. I feel relaxed, motivated and strong. I'm also mentally ready for this race which will be one of the hardest in my life – added Attila. 
– This year's L'avenir is just as hilly as always. It's a pure climbing race which is quite rare in the younger categories. I'm really keen on climbing all those famous climbs, especially in the Alps – says Attila. In his opinion, the rider who would like to win the whole race, has to stay in optimal shape during all 10 stages. – The majority of those stages are very hard, it's really difficult to distinguish the most demanding. For sure, two last days – stage 9th and 10th, will be very hard as we will be riding to altitude with lot of kilometers in the legs. It is said that it's hard to win the race in one stage, but it's very easy to loose it. Therefore, you have to stay focused every day. I believe that I can show myself there – says Attila.