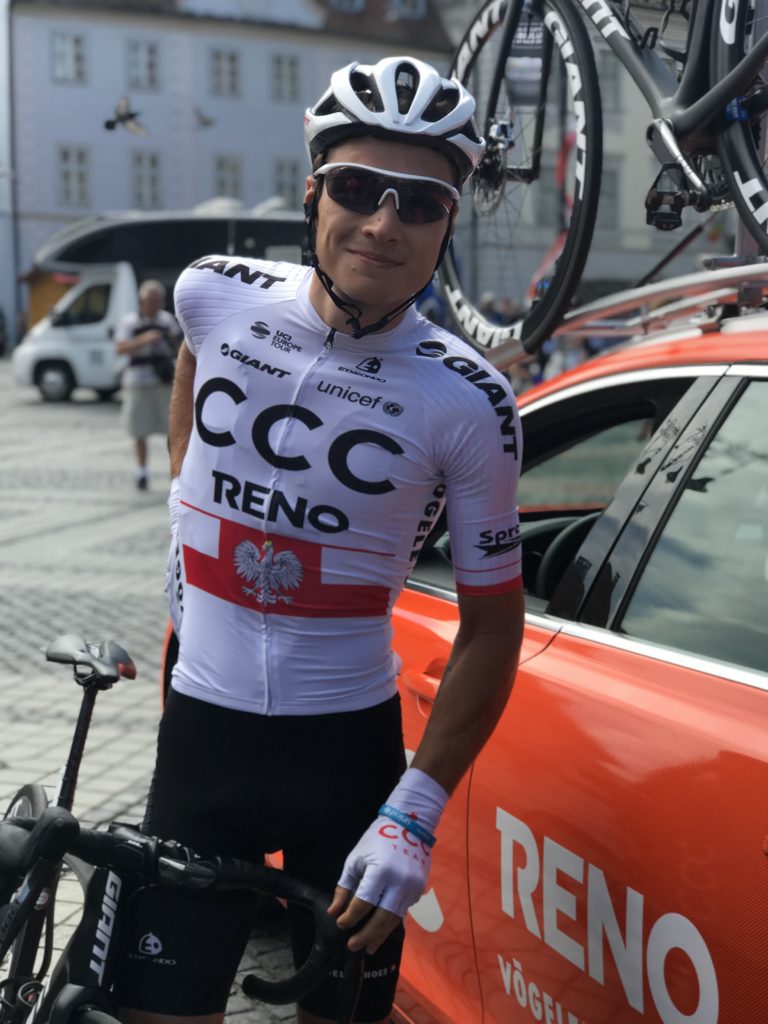 -Joining the world tour team has been my dream since I started training. As a young rider I used to watch the most important races with the best cyclists taking part in them. I wanted to become a part of such a team. In cycling, we all strive to be better, we sacrifice ourselves for the team, but each of us also has their dreams. One of mine was riding on a world tour level – said Michał Paluta,  current Polish national champion, who will spend next season in CCC Team. This is the first transfer from our squad to world tour team. More in the interview below.
What did you feel when Piotr Wadecki offered you a contract in CCC Team?
Michał Paluta: It was a great feeling. It is impossible to describe in words, how happy I was. Joining the world tour team has been my dream since I started training. As a young rider I used to watch the most important races with the best cyclists taking part in them. I wanted to become a part of such a team. In cycling, we all strive to be better, we sacrifice ourselves for the team, but each of us also has their dreams. One of mine was riding on a world tour level. When it appeared last year that CCC will be sponsoring the first Polish WT team, and our team – CCC Development Team – will be its backroom – it became an additional motivation for me. Being able to compete under the Polish flag at the world's biggest races will be something really big. I'm bit stressed, of course, but it's definitely motivating stress. I certainly will work and train hard.
Some say that you have joined world tour team thanks to winning the Polish Nationals.
I've been riding in CCC for the 5th season this year, and every rider is accounted not only for their results, but also for the work and commitment for the team. There are races where you work for your teammate, even though you are super strong. This is cycling and this is also seen by our sports directors. I think that in my case it also had a huge impact – I have shown many times that I can work for my teammates and that I still do a progress as a rider. I did not perceive the Nationals in a way that if I win the race, it will automatically give me a place in WT. I did not consider it in such categories. It has always been in my mind that I have to do follow my path – do the best job for the team, and when the opportunity comes – I should take my chance. In cycling, we never know when such an opportunity to fight will appear. You must always be ready for it. This is how I perceive each race, so it was the case with the Nationals. I had a chance, as it turned out I was in a proper breakaway, the team trusted me and let me ride in untill the finish. That day I felt strong and took my chance. And the fact that next season I will be able to represent the Polish WT team in the national champion jersey, will be an additional motivation for me.
No fear or anxiety? 
Not anymore. I'd had crazy time after winning the Nationals. Around two weeks of total interest –  from the media, the cycling community and friends. During these first days I was slowly getting to know what had really happened. These days were bit tough for me – I had a lot of thoughts, I barely slept. The support of my family and fiancé really helped me to quickly get used to this situation, which was new for me. I also felt some anxiety during first races in the Polish champ jersey. Now I am glad that this crazy time has already passed. I will do my best to represent this jersey with dignity next season. It's amazing feeling to be its owner for a whole year. I also hope that in June next year we will be able to make it stay in the team.
How have you changed as a cyclist this season?
This season was special to me in several aspects. Not only because I became Polish champion and I got a contract in CCC Team. For the first time I had the chance to be one of the "oldest" and most experienced riders in the team. Until this season, I was always the young one. This year, my role in the team has changed a bit. Riding with younger cyclists, helping them and teaching them how to "read" races – on the one hand was quite a responsible task, and on the other –  gave me a lot of satisfaction. It was also very important that the team maintained its high level. Nothing has changed compared to previous years, even though this season we were competing in the 3rd and not in the 2nd division. We have everything that is necessary for making progress – experienced physiotherapists, great equipment and mechanics, appropriate nutritions and devices supporting regeneration. It is thanks to our main sponsor – Mr. Dariusz Miłek. And when it comes to more "cycling" issues – I think I improved my ability to ride in mountains. I also focused on not having a negative impact on my strong points – like dynamics and riding against the clock. I worked on it with my coach – Sylwester Szmyd. I think that I made a big progress this and last season. This progress has not always been seen in my personal results, but played a crucial role when it comes to the results of the team. 
What do you expect from your first season in CCC Team?
I want to gain experience, help the team and continue to become a better rider. I want to keep doing progress, see improvement in motor skills or my efficiency, for example. I want to be  good  all rounder. I don't want to become a climber at all costs, but on the other hand – I would like to be ready to go on a grand tour in the future. And there mountain climbing skills are essential. In previous years, when CCC was a procontinental team, we were getting wild cards for several major events of the season. Now big and known races will be something common. I'm looking forward to this with calm head and curiosity about for example – how my body will react to such effort. I will do everything to prepare myself properly for this season and be the one of the most useful riders for the team.
Is there anything you are afraid of?
I think there is nothing to fear. This is a huge chance for me. I can compete among the best riders and start in the best races in the world. As I said – I have a cool head and I can offer a lot of commitment and willingness to work. With the support of coaches, directors and teammates and staff we will be ready for each race.
Which moments have been the most crucial for your cycling career so far?
As the first I would choose signing a contract with CCC Sprandi Polkowice in 2015. For me it was a first season in U-23 category and I have already started racing with the elite. And this certainly have a huge impact on my shape and later results. I've been riding in a good team, which was investing  in development of the cyclists over the years. As a CCC rider I won the Polish U-23 championship twice, in 2017 I took 8th place at the World Championships in the U-23 category. Gradually, I improved my skills and became a better cyclist, though sometimes it was not easy. I also remember the situation from 2016, when Piotr Wadecki called me and said that he would like me to start in Tour des Flanders. It was a shock for me, but at the same time a considerable distinction. It was a hell of a difficult race, which gave me experience that paid off in future years.Moreover, I felt how hard professional cycling is. I also realized how much work is ahead of me to be able to fight with such riders as equals. And another crucial moment – definitely this season – winning the Polish Nationals in the elite and promotion to WT.
We can say that's all thanks to your grandfather…
Yes, my grandfather had a bicycle store in Strzelce Krajeńskie and he introduced me to cycling, he shared with me his passion for riding a bike. I started from the cross-country, then thanks to my coach Józef Szymański I switched to the road cycling. Unfortunately, my grandfather died a few years ago and was not able to see my biggest success. That is why I dedicated him my Polish champ title. 
Do you remember your first road training session?
Of course I do. I started in a small school bicycle club when I was 12. Rest of the boys were a bit older than me. I remember exactly where we were going, at that time we had to do 40 km. Our coach followed us on a motorbike. After the end of my session, I saw how coach did some short speed ridings with other guys. They were going around 50 km / h. At that time, it was something amazing to me and I was sure then that I wouldn't be able to go so fast. I was tired and the last 5 km were one of the longest in my life. I was alone and the coach told me to go back home. This situation really made me be more into cycling. I even told my friends at school how long my training session had been, as it was a big thing  to complete 40 km ride. And now 40 – 50 km is such a "rest-day" ride. I have to admit that when I started cycling, I would rather describe myself as average. I had moments of doubts, but I kept on training. Some time later I won my first medal at the National Youth Olympics in MTB. And as I'm talking about it right now, I am starting to realize that it was also a kind of breakthrough moment. I felt that I had reached a different level and became a different cyclist.
Why you like cycling? 
I loved that I was doing something other than 99% of my colleagues who played football. I trained one of the toughest disciplines in the world. I started watching races and got into cycling. I could never play football, I also went swimming, but it wasn't that. And when I got on the bike I felt that simply this was it. It was also cool that training gave me freedom. I left for a few hours outside the city, often alone. Every day I could go in a different direction, I didn't have to sit in the hall nor in the gym. Even now, when I have a longer workout, I like to go ahead, find some new routes. Sometimes I end up in the middle of a forest or field, but at least I never get bored. And what is most important – this form of activity relaxes me a lot. Cycling is my passion and the way of life. I overcome my weaknesses every day. I raise my pain limit, I fight with myself. It's later gives tremendous satisfaction after finishing really difficult race. Of course, during the preparation period and during the season, I have less contact with loved ones. Fortunately, my family often goes to support me on races. I'm glad to have them. They are always with me regardless of whether good or bad things happen. They always believe in me and are always by my side. 
The last question – if you could choose races for your next year's calendar, what would you like to ride?
I think I would choose Amstel Gold Race, Strade Bianche, Milan – San Remo and maybe one of the grand tours. Riding Tour de Pologne would be of course something special. A Polish WT team at such a race in Poland would be something amazing. I believe that there will be a chance to take part in our national tour next season. Moreover, it would also be nice to compete in Tour of California. I would like to see how I would managed there. And besides, I have a great fondness for the United States. I have great memories from the World Championships in Richmond, so I'd love to race in the US again.