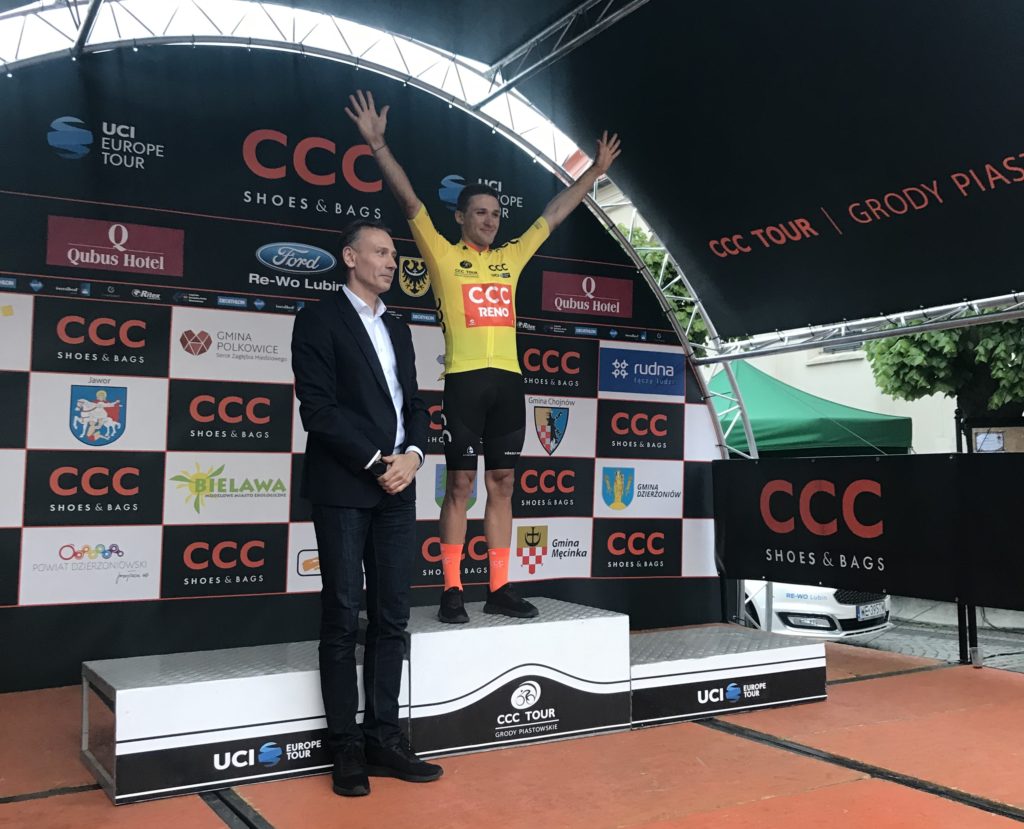 Kamil Małecki will join CCC Team on a one-year deal. Kamil started his cycling career from cross-country and MTB, but he quickly switched to the road. He has been representing CCC since 2015. He won two stage races in this season: CCC Tour Grody Piastowskie and Bałtyk-Karkonosze. He was second in the GCs of Tour de Hongrie and Carpathian Courier Race. He also won one stage in 2017 edition of this race. Kamil is a rider who prefers one day races or short stage events. His cycling idol is Alberto Contador. Kamil admires his riding style and courage. What can be interesting -,Kamil is a huge fan of volleyball – as a young boy he also practiced this discipline.
Do you consider joining CCC Team as the biggest success in your cycling career so far?
Definitely yes. When I found out that I would join CCC Team, I couldn't believe it. It's hard to describe what was happening in my head back then. It was just a dream coming true. I've always wanted to ride for WT team and it will become a reality from January. I'm just extremely happy. I would like to thank our sport directors for their trust and the staff and boys from the current team for the work they have done for me this season. These months were amazing to me.
You started the season on a good level and your best shape came in May, when you won two stage races – CCC Tour Grody Piastowskie and Bałtyk – Karkonosze.
Together with my coach, Tomasz Brożyna, we were planning the best possible form for May – June. We had our plan, which we modified when it was necessary. And actually it turned out that this season has been very successful for me, even the best in my career, I would say. I'd been working hard all winter. Core exercises also helped me a lot, we practiced them every day during our training camps, under the supervision of our physiotherapists. I think that I made a big progress when it comes to individual time trial. I won the time trial at Bałtyk Karkonosze race and I was second in Grody Piastowskie. I have also improved my abilities to ride in mountains which allows me to fight a bit different races than before. The best example of progress I've made was this year's CCC Tour. The last stage, which was crucial for GC, was a mountain stage. With the help of my teammates I managed to win. I had an advantage of one second over Maciek Paterski, who was second in GC. It was also the first GC win of a stage race for CCC Development Team. Each of us was proud of this victory.
You have been riding for CCC since 2015. For 4 seasons it was a procontinental team which meant that you had a chance to get wild cards for WT races. However, its profile has changed since 2019 – the team went to the 3rd division, but became the backroom of the world-tour CCC Team.
And that's why I had no doubt whether to extend the contact. Sport directors have  explained to us in details what this project will be about, what are the possibilities for us – that basically each of us has a chance to join world tour team. So, there was nothing to think about. I also wanted to continue working with my coach, Tomasz Brożyna. We started our cooperation when I joined CCC in 2015. All my successes belong also to him. I think that I have become more mature in CCC Sprandi and in CCC Development Team. The team gave me a lot of motivation and they believed that I could be a good cyclist. During all this time we have had everything what is needed to become better athletes. We had properly prepared bikes, physiotherapists always did everything to help us regenerate as much as possible. The best example was day before the last stage of CCC Tour – our physiotherapist Przemek was giving me treatments until late evening. Thanks to that I probably was able to gain that one second which gave me and our team the overall win. 
Have you had the chance to talk about how the directors see your role in CCC Team?
I had a preliminary talk with director Piotr Wadecki. The details, including the race plan, will be given during training camp. The most crucial thing for me is to improve and make further progress, thanks to which I will become a better rider. I know real cycling starts at WT level. Therefore, the next season will be very important for my future. The main thing is to focus completely on cycling. Thanks to this there will be no worries about whether I will manage. I hope that I can become one of the strong elements of the team. I will work hard and do everything to make the team satisfied. Hopefully, I can stay healthy for all the season. 
What will be the biggest challenge for you next season?
I think that maintaining this systematic progress. Joining the world tour team is one thing, and maintaining an optimal shape that will allow me to fulfill my tasks well, is another. As I said – real cycling starts at the world tour level. I want this to last for me as long as possible, that's why I don't think what will happen in January or February, but what kind of workouts I have to do next week. I see that a few years of regular work have worked, so I just keep doing my job. I train, don't think. I appreciate every moment spent on the bike and enjoy it. Whether it hurts or not. I just love cycling and I can't imagine my life without it. This sport has given me unforgettable moments and wonderful emotions.
When did you realize that you want to be a professional cyclist?
I started my cycling career in Baszta Bytów cycling club. I'd raced there since I became junior. I won my first race and then I really knew then that I wanted to do cycling, because it makes me happy. Then I won several silver medals at Nationals, and those successes confirmed my belief that I had to do everything to become a professional cyclist. And in 2015 my dream began to come true, because I have joined CCC Sprandi Polkowice. However, I must admit that my first two years at CCC were simply not good. There was even a moment when I wanted to quit cycling. It was a difficult time for me, but the team gave me another chance. I knew that I had to took that chance, so I could thank the team for not stopping believing in me. A lot has changed since then – I have been systematically improving my skills, and recent months have confirmed that my career is going to the right direction.