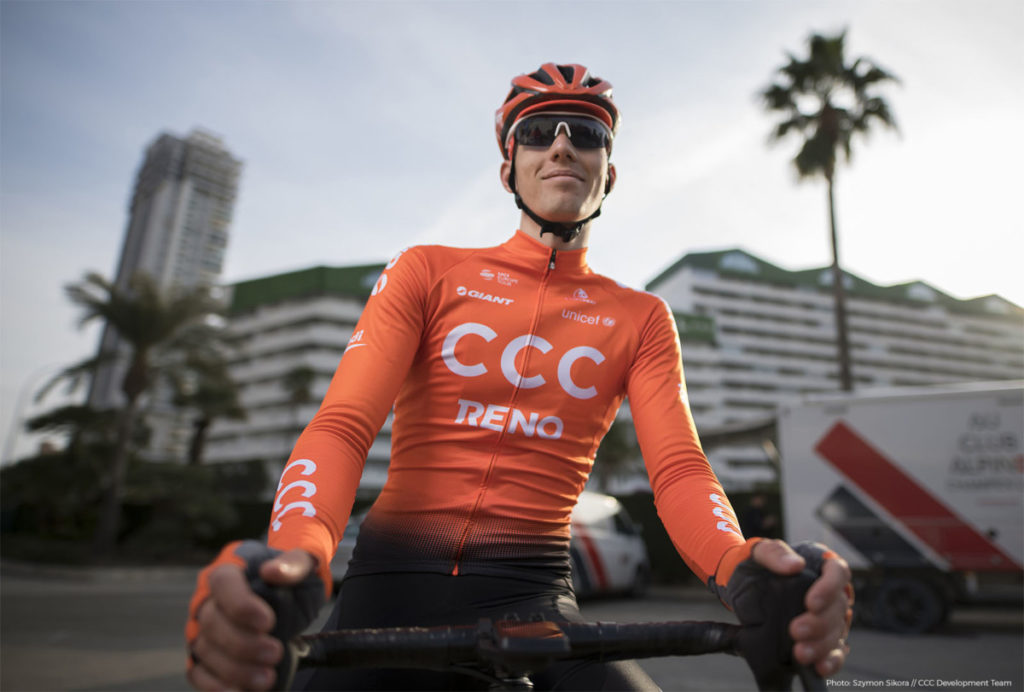 From the following season Attila Valter will be representing CCC Team. Hungarian is the third – after Michał Paluta and Kamil Małecki – CCC Development Team rider who will join World Tour team. This season Valter won the stage at Tour de l'Avenir and also became Hungarian champion in individual time trial (in the elite and in the U-23). Attila had started riding a bike at the age of three. A year later, he stood at the start of his first race. He has been always supported on his cycling path by his dad – Tibor Valter, who also raced in the past. Attila is a typical climber, his cycling idol is Alejandro Valverde.
Attila Valter
12.06.1998
climber
rides for CCC Development Team in this season
How would you describe this season?
This season was by far the most interesting, demanding but also the most successful in my whole career. I have achieved more than I expected. I have been extremely motivated since the beginning of this year. I was aware that CCC Development Team is the best place for me to became a better rider. I've had a proper calendar with good races, well-worked preparation period. The crucial thing was that I had a chance to learn from more experienced riders like Michał Paluta, Kamil Małecki, Patryk Stosz and Piotrek Brożyna. They were supporting me all the season and also thanks to them I was able to stand on the podium so many times. As a CCC Development Team rider I won a stage on Istrian Spring Trophy, Gemenc Grand Prix I. Moreover, I was 3rd in GC of Tour of Antalya, Belgrade – Banjaluka and Tour de Hongrie. Additionally, I became Hungarian champion in ITT and won stage at Tour de l'Avenir. I have never thought my season would be so successful.
What was the most important win in this season?
The most important was the victory at Tour de l'Avenir on stage 9. It was one of the hardest races in my life – long and demanding. Moreover, it was a solo win, so I was racing alone for last 8 kilometers. I managed to win among the best U-23 riders and it's still hard to believe. Every year only the best-ones win stages in this race and I got a great amount of applause from all around the world. Easy to say it's my most important victory ever. I am also sure that this was quite important factor when it comes to my promotion to CCC Team.
How you changed as a cyclist during this season?
I see quite a big change in my racing skills but also my personality and mentality have changed during this season. Definitely, I'm much better rider – I've improved my endurance, climbing skills, I learned  a lot when it comes to riding and positioning in the peloton. I feel that I've became more mature, I've gained a lot of valuable experience. It was good to be in a foreign team, I had to focus on everything because all the things were new for me and I'm happy I've also completed this task well. I feel I had a good spot in the team. I would like to thank everybody – directors, riders, staff for all their support.
How do you feel about joining WT team and what are your goals for the next season?
Joining the World Tour Team is the biggest thing in my life! If two years ago someone had told me that I'd join WT team so quickly I wouldn't have believed in this… And here I am know.  A new part of my life is going to start, but I think I am ready for it. As a rider I am in the best place to enter the most elite league of cycling. I've already set some goals for myself, but the most important thing is the team – so I'm ready to help and support my teammates. This would be an unique opportunity – to have a chance to ride with and learn from such experienced riders like Olympic champion – Greg Van Avermaet. I am also looking forward to meet Kamil Małecki and Michał Paluta. So hopefully – the best is yet to come.