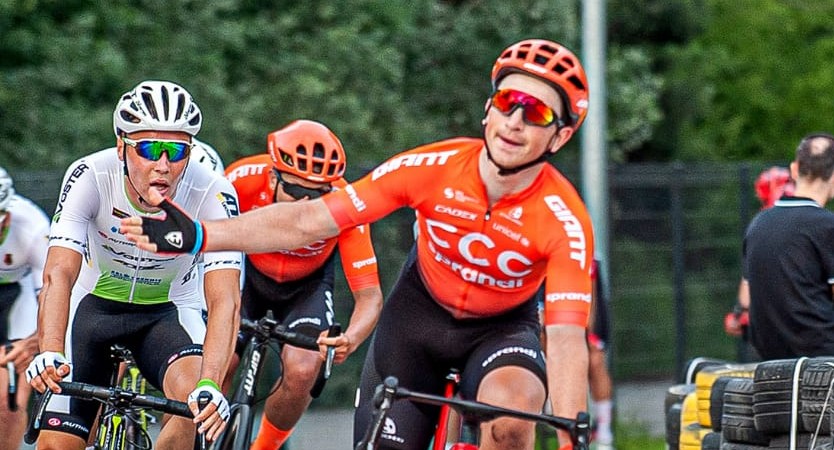 Four of our riders took part in the Puchar Marszałka Województwa Mazowieckiego race. The best of them was Stanisław Aniołkowski.
The race was held for two days – 12 and 13 June on a car track near the airport in Modlin. On the start line stood many riders. Among them there were four of our riders – Aniołkowski, Szymon Krawczyk, Karol Wawrzyniak and Damian Papierski. The round was 3.2 kilometres long. Two races were held, and the results in the final classification were determined by the number of points scored in particular rounds.
On the first day "Aniołek" took fifth place, Szymon was ninth and Damian 12th. The second day of the competition Stasiek finished in fourth place, Damian was seventh and Szymon was ninth.
– We had a chance to race on the car track. It was a very cool race. The first day gave us a hard time. Temperature over 30 degrees Celsius, full sun. It was very hard. We tried to be active from the beginning, although we had a difficult task, because there were fewer of us than rivals from other teams. On the second day I started to run away. Unfortunately, my chain got bent and I couldn't finish in the next rounds, because it threatened to crash. For four rounds to the end the spirit of competition took over common sense and I finished. The chain broke, I was lucky not to fall down. I was left without my bike. The mechanics from the team of Mazowsze Serce Polski helped me. They lent me a bike. I won the last, double-pointed finish. To sum it up, we stretched our leg. It's nice that everything is back to normal. I am very happy that I could feel the competition again. Racing is what I miss most now. We all want to return to a normal starting rhythm – Stasiek Aniołkowski told us.
The winner in the general classification was Adrian Kurek from the Mazowsze Serce Polski team, the second was Paweł Cieślik from Voster ATS Team, and the third Paweł Bernas also from Mazowsze Serce Polski. In the U23 two of our riders stood on the podium – Damian Papierski took second place, and Szymon Krawczyk was third. Karol Wawrzyniak was fourth.
Photo: Grzegorz Trzpil (Mazowsze Serce Polski)